One of the most popular landscaping and design options offered by Step Outside Landscapes is resin-bound paving. In order to fully appreciate the benefits that these substances have to offer, it is a good idea to look at the associated principles in greater detail.


What is Resin-Bound Paving and What are its Benefits?
This technology is rather new on the markets and it offers a host of interesting benefits. The materials consist of an aggregate (such as stone or gravel) that is impregnated with a high-strength resin compound. This resin is applied before the gravel or stone is laid down. Once cured, it offers several very interesting advantages. Not only is the resulting surface flexible, but it allows water to flow freely through its pores.
This permeability is ideal for sloped properties and other locations that might otherwise be prone to flooding. Also, the resin has been designed in such a way as to be resistant to the ultraviolet rays of the sun. This helps to protect the colour of the stone or paving material; ideal in terms of aesthetic longevity.
Resin bound is environmentally friendly, it is easy to maintain and has a very attractive finish. You can choose from a wide range of colours that will look amazing on any driveway and patio. Resin doesnt take long to install but will last for many years. Our resin bound experts can answer any questions you may have on this great surface.
Resin bound surfacing has become very popular and it's easy to see why:
 It doesn't fade and react to sunlight like traditional materials used for driveways and patios being fully UV protected from installation
 Almost maintenance free – Just requires a jet wash every now and then to keep it looking fresh
 When installed to correct specifications, it doesn't need drainage and is fully SUDS compliant
 Weeds will not grow through the surface like block paving, making it practically maintenance free
 We can add any design while installing this material – any lettering or house numbers can be added to give a unique finish to any driveway
 In many cases resin can cover existing concrete and tarmac drives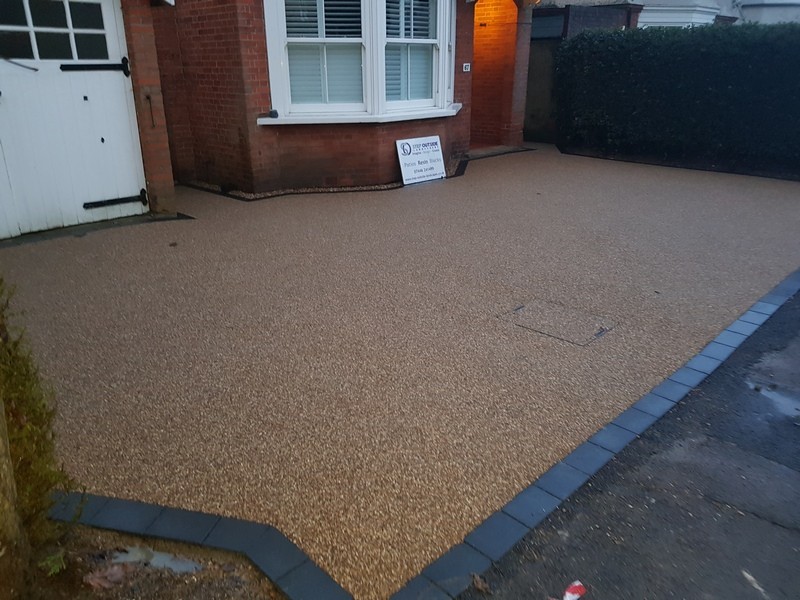 You can see examples of our work in our gallery. This is only one of the many services which are offered by Step Outside Landscapes. If you would like to learn more, please contact us at your convenience.
We are happy to drive to anywhere in Essex to carry out our resin bound services.